This is the old United Nations University website. Visit the new site at http://unu.edu
---
| | |
| --- | --- |
| | |
| | November 1997 |
Earthquakes and mega-cities
---
Earthquakes do not come cheap these days. In both rich and poor countries, bigger, fancier buildings, expensive infrastructure, and trade-dependent economies have pushed up the price of urban disasters. Even a modest tremor striking a large urban area is likely to cause damage costing at least $25 billion. That is what the 1994 Los Angeles quake is said to have cost.
In high-cost places like Japan, the bills come bigger still. The Great Hanshin Earthquake in January 1995, for instance, is said to have cost $110 billion. A repeat of the earthquake that flattened Tokyo in 1923 could cost as much as one trillion dollars today - a huge amount of money even for a wealthy country.
To improve earthquake preparedness and help reduce earthquake damage in large urban areas, the UNU, along with 35 other international organizations and funding agencies, sponsored the "First International Earthquake and Mega-city Workshop," from 1 to 4 September in Seeheim, Germany.
The objective of the workshop was to bring together scientists, engineers and city planners to discuss what research needs to be done to better prepare mega-cities for earthquakes. The workshop's main goal was to create an international network of researchers whose ideas will be integrated into urban development plans.
The UNU sent a three-member team to join the 130 other experts attending the event. The team included German Velasquez, a UNU programme associate; Ben Wisner, a professor at the University of California at Long Beach; and Ms. Wendy Ovens, a community services executive from Johannesburg. They contributed to the workshop by adding a socio-economic dimension to the geologically oriented way that earthquake disaster management has otherwise been thought of. They did this by chairing one of the workshop's sessions and sharing the findings that the UNU's "Geography of Vulnerability" project has uncovered on the social impacts that earthquakes cause.
Research papers were presented on almost every aspect of earthquakes. Two especially interesting papers about socio-economic impacts were presented by Hal Cochrane, from Colorado State University, and Dr. Velasquez.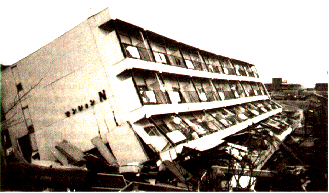 A four-storey steel-frame residential building with first and second floors
collapsed, 27 January 1995, Nishinomiya City, Japan
Dr. Cochrane explained the financial problems earthquakes cause. According to him, lessons learned about the cost of earthquakes in industrialized countries like the United States and Japan are not applicable to developing ones. His research has found that, unlike the impact in a developed country, the destruction of a mega-city in a developing country may devastate that country's economy. "A quake could trigger a collapse in exchange rates, cause foreign and domestic capital to fly out, and even create an economic implosion," he said. He also warned that, by the year 2020, the developing world's most populous earthquake-prone cities will be vulnerable to complete economic collapse.
Dr. Velasquez's paper focused on the things that people living in Manila can do to reduce the social disruptions that earthquakes cause. But most of what he has uncovered could apply to people in almost any city. He reckons that the best and cheapest thing people can do is to be prepared. However, he says that people shouldn't just think of preparation as being limited to earthquakes. They should treat it as an investment in smart emergency planning, whether the emergency be an earthquake, typhoon, flood or fire. Such things as memorizing escape routes out of buildings and arranging family meeting places in case someone gets lost should all be planned in advance. And first aid kits, bottled water, flashlights and blankets should be kept in easily accessible locations known to everyone. "The idea is to make emergency preparedness automatic and second nature," he said.
He also suggested that families and businesses conduct regular emergency drills and include topics on disaster awareness in school; he further suggested that industrialized countries help teach developing ones more effective emergency responses.
By the end of the workshop, the participants recognized the importance of continuing their interdisciplinary dialogue. They decided to create a working group that would do the following: find ways to minimize research overlap, attract funding, encourage international cooperation and dispense information over the Internet. The group will also try to come up with financially attractive solutions for reducing the damage that earthquakes cause.