This is the old United Nations University website. Visit the new site at http://unu.edu
---
| | |
| --- | --- |
| | |
| | May 1999 |
First UNU International Courses session ends successfully
---

Students of the UNU/IC pilot session, with instructors and session organizers

The pilot session of the UNU International Courses (UNU/IC) programme was held at UNU Headquarters in Tokyo from 1 February through 12 March. Thirty-nine students - 20 from the Asia-Pacific, 8 from Africa, 7 from North and South America, and 4 from Europe and the Middle East - attended the six-week session.

The UNU/IC programme is intended for postgraduate students and professionals from Japan and abroad who are seeking positions in international fields, including the United Nations system, national foreign-service agencies, and non-governmental organizations (NGOs). Two-thirds of the students (26) took two courses during the session, while the other one-third (13) took one course. The courses were taught in English by an international staff of topic experts, with 12 to 19 participants per course.

The four courses offered during the pilot session were:
The United Nations System: Structure and Activities (19 attendees),
Human Rights: Concepts and Issues (12 attendees), and
International Trade and Dispute Settlement (17 attendees).
Each course met for 90-minute sessions three times per week. Students were required to submit a 5,000-word paper for each course.
UNU/IC instructors include UNU academic programme staff and scholars engaged in UNU research projects as well as representatives of various UN agencies and other international organizations, and university professors and professionals from around the world. Among the 27-member team of instructors for the pilot session were Prof. Yozo Yokota, professor of law, the University of Tokyo (Japan); Dr. Michael Glantz, senior scientist with the National Center for Atmospheric Research (USA); Prof. David Forsythe, professor of political science, University of Nebraska (USA); and Dr. Gary Sampson, former director of the World Trade Organization's Trade and Environment Division (Switzerland).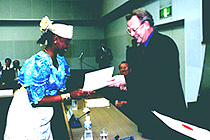 UNU Rector Hans van Ginkel presents a certificate of completion to a UNU/IC student.

The International Courses are a new initiative by the UNU to implement, as prescribed in Article I, paragraph 7, of the UNU Charter, "the training of persons who will serve in international or national technical assistance programmes, particularly in regard to an interdisciplinary approach to the problems with which they will be called upon to deal." As Prof. Hans van Ginkel, UNU Rector, noted in his welcoming address at the UNU/IC opening ceremony on 1 February, "Bringing together theory and practice as well as maintaining a clearly global perspective are essential for UNU's work." He noted that, "These courses have been specifically designed to provide those who already have a university degree and already have some basic knowledge with further focused training."

Students received UNU Certificates of Completion from the UNU Rector at a closing ceremony on 12 March. During the award ceremony, a participant selected from each course gave a brief presentation about what had been accomplished during the programme's pilot session.

According to Prof. Hideo Sato, UNU/IC Director, it is intended that the UNU/IC programme will become "an integral part of the UNU's training and capacity-building activities. We hope that the pilot courses will pave the way for regular courses to be offered every year."