This is the old United Nations University website. Visit the new site at http://unu.edu
---
International Symposium and Workshop
Challenges in Strengthening of Capacities
for Forest Policy Development in
Countries in Transitions
Belgrade, Serbia and Montenegro

21-28 November 2003




The international symposium on The Role of Research and Higher Education in Developing National Forest Programmes in Countries with Economies in Transition held in Kaunas, Lithuania in June 2002 provided a baseline and framework for analysis of capacity needs for forest policy in countries in transition. Based on the review of the current state of the art in the development of national forest programmes, the second international symposium will attempt to identify the challenges to strengthening capacities for forest policy development in countries in transition. The workshop will situate the transition-specific capacity issues within the broader international framework of discussions on the contribution of forest policy science to the national and international forest policy dialogue.

The Symposium and Workshop will bring forest policy experts and practitioners from more than 20 transition countries and representatives from other regional and international organizations, and various governmental and non-governmental organizations, industry and research institutes to:
Review the emerging challenges to both forest policy research and policy processes in support of knowledge-based development strategies in Pan-European and global context;
Evaluate the present state-of-art and practical capacity strengthening issues in forest science - forest policy development interface in terms of country cases from Central and Eastern Europe and the Central Asian region;
Discuss the contribution of policy sciences and socio-economics to forest policy development processes;
Deliberate the future options and strategies for capacity strengthening in region-based working groups, followed by recommendations for future actions on networking and partnership arrangements.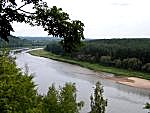 The objective of the Symposium and the Workshop is to contribute to the national and international dialogue on developing capacities for building appropriate mechanisms and instruments as part of a knowledge-based, innovative framework for forest policy formulation and successful implementation. The need for incorporating science, research and capacity building in forest policy formulation and implementation at the national as well as the international level was emphasized at the Ministerial Conference on the Protection of Forests in Europe (MCPFE) held on 28 April 2003 and reiterated at the third session of the United Nations Forum on Forests (UNUFF -3) held on May 26th - June 6th, 2003 in Geneva.

The event is jointly organized by the United Nations University in Tokyo, Japan, the European Forest Institute in Joensuu, Finland, the University of Joensuu/Silva Network, and the Universität für Bodenkultur (BOKU), Vienna, Austria, and the Tempus project "Curricula Development in Forestry Sciences" together with the local hosts - the Institute of Forestry of Belgrade University and the State Enterprise for Forest Management "Serbia Forest".
---