---
Concept
---
GLEAM Description
Objectives
Sustainability Domains
Functionality
---
Workshops
---
News
---
Links
---
Contact
---
Home
A Forum on Sustainability Modeling and Assessment: What's New?
Sustainability issues have gained substantial importance on the political agenda in the recent years. The first UN Conference on Environment and Development (UNCED or the Rio Summit) has emphasized this shift of attention in the form of Agenda 21. Since then, countries and regions have been formulating strategies towards the achievement of sustainability in various sectors of national and regional development. These strategies will have to cover the environmental, social, economic and institutional dimensions of sustainable development. Environmental sustainability focuses on the overall performance or health of ecosystems. Social sustainability seeks to reduce the vulnerability of various segments of the society, particularly the poor, and maintain the health of social and cultural systems. Economic sustainability aims to maximize the flow of income, while maintaining the stock of assets required for these benefits. The institutional dimension reflects the whole set of norms and beliefs on which personal preferences and attitudes as well as private and public organizations are built. Institutional sustainability links to the availability of mechanisms to implement the other dimensions of sustainability as well as the long-term viability of the institutions in themselves. In all cases each system's capability to withstand shocks (vulnerability and resilience) is an important aspect of sustainability.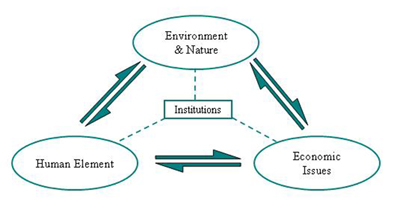 Major domains of global environmental issues




In order to achieve sustainability in its various dimensions, we need to be able to analyze the future course of these systems and rationally evaluate scenarios and policy options. Integrated Assessment modeling provides important tools necessary to undertake such analyses and evaluations. Until recently, such assessment modeling efforts have been typically limited in geographical focus and in the sectors and issues covered. Modeling environmental systems have seen considerable improvement in its application and utilization since the Rio Summit. This has been driven partly by the development and negotiation for various Multilateral Environmental Agreements and by the need for scientific assessments in support of these negotiations. The UN Framework Convention for Climate Change has generated a broad variety of integrated assessment models focussing on the climate issue. Some trend setting examples of these models are AIM (NIES, Japan), MARIA (Tokyo University), IMAGE (RIVM, The Netherlands), MESSAGE (IIASA, Austria) and MiniCam (PNNL, USA). Some of these models are gradually being expanded in order to cover the broader perspectives of sustainability, vulnerability, durability and human security. The POLESTAR model (SEI, Sweden) and the TARGETS model (RIVM) are useful, but still insufficient, attempts to move modeling in that direction in an integrated fashion. Substantial model development is required to cover the different dimensions of sustainability and the spatial and temporal variety within these dimensions. While IA modelling is concentrated in the developed economies, the need to incorporate expertise and insights from all regions is widely recognized.

UNCSD has developed a system of indicators covering this framework, to analyze sustainable development as requested in Agenda 21. A first simple list of indicators is presented in the Blue Book: "Indicators of Sustainable Development: Framework and methodologies". This book groups the indicators according to the chapters of Agenda 21 in the four domains of sustainability. Globally-integrated assessment modeling should express the structural, spatial and temporal relationship between the selected indicators.

The Gleam Forum is intended to catalyze collaborative work on assessment modeling to address some fundamental questions about sustainable development. This can be achieved by combining the knowledge and experiences from the North and South in a systematic way. Such a forum has to be research-driven and policy-oriented in its outlook. Specifically, the objectives of the forum are:

Establishing a worldwide network of experts focused on advancing the knowledge and on conducting policy-relevant assessments and applications.
Serving as a catalyst in development of globally integrated models by (a) providing a forum for discussion; and (b) identifying existing gaps and missing linkages in existing modeling initiatives.
Promoting capacity development in the developing countries to effectively utilize available models for their own sustainable development.